Busbar Sleeve For 66 kv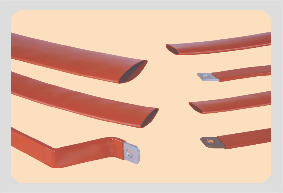 Bus Tube is heat shrinkable tube designed to insulate busbar systems up to 66KV & to protect against accidental flash-over. The tubes are manufactured from high quality non tracking cross-linked polyolefin material. Meets ANSI C37.20.2 standards for switchgear application up to 66 KV.
FEATURES & BENEFITS :-
Reduce Busbar clearance.
Prevent Busbar from chemical corrosion effected by strong acid, alkali, salt etc.
Solve the problem of insulation among Busbar in Bus Duct.
Halogen free, flame retardant.
High dielectric strength.
Highly Flexible for use on straight or angled bars without creasing.

Extra Heavy Wall Tube [Upto 66KV]
Gala Size
D mm
d mm
T±10%
Length
GEHB 50/25
50
25
6.2
1500
GEHB 75/28
75
28
6.2
1500
GEHB 100/38
100
38
6.2
1500
GEHB 120/45
120
45
6.2
1500
GRT(HW) 85/30
85
30
5
1.5
GRT(HW) 100/38
100
38
5
1.5
GRT(HW) 120/45
120
45
5
1.5
GRT(HW) 140/50
140
50
5
1.5
D ,d : internal diameter ;T : Thickness
TECHNICAL SPECIFICATION
Properties
Value
Standard
Tensile Strength
12 N/mm2 (MPA)(min.)
ASTM D638
Ultimate Elongation
350% (Min.)
ASTM D638
Density
1.20 ± 0.2 gm/cm3
ASTM D792
Hardness
45 ± 10 Shore D
ASTM D2240
Water Absorption
0.5 % (max.)
ASTM D570
Accelerated Ageing
(120oC for 500 Hrs)
ASTM D2671
a. Tensile Strength
10 N/mm2 (Mpa) (min.)
ASTM D 638
b. Ultimate Elongation
250 % (min.)
ASTM D638
Low temperature Flexibility (-40oC for 4 Hrs.)
No Cracking
ASTM D2671
Heat Shock (250oC for 30 Min.)
No Cracking or flowing
ESI 09-11
Shrink Temperature
125°C
IEC 216
Continuous Temperature limit
-40°C to + 105° C
IEC 216
Dielectric Strength
22 KV/mm. (Min.)
ASTM D149
Volume Resistivity
1 x 1014 Ohm.cm(min.)
ASTM D257
Dielectric Constant
5 (Max.)
ASTM D150
Resistant to track & erosion
No Tracking, erosion or flame failure up to 3.25 KV for 20 min.
ASTM D2303
Clearances With Insulation
Voltage
Phase to Phase (mm)
Phase to Ground (mm)
UN-INSULATED BUS BARS