Switchgear Insulation Products
High Voltage Insulation Sheets - BUSSHEET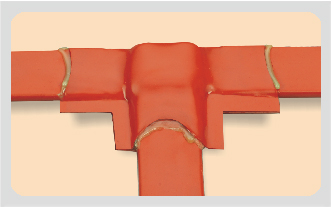 Bus Sheet GMHS & GHHS is an adhesive coated heat shrinkable sheet, which provides insulation enhancement & protection against accidentally induced discharge. It is suitable to insulate almost any sizes or shapes of busbar joint like busbar tees, elbows and other connections where tubing and tape can not be used.
After applying heat, this sheet shrinks to tightly conform to complicated shapes. Gala mastic tape can also be added to ensure that protruding shapes are insulated. The sheet is manufactured from high quality non tracking crosslinked polyolefin material & meets ANSI C37.20.2 standards for MV application upto 36KV. GMHS sheet shall provide flashover protection up to 17.5KV. & GHHS sheet shall provide protection up to 36KV.
STANDARDS :
Easy to install on site using a gas torch or hot air gun.
Prevents Busbar from chemical corrosion v effected by strong acid, alkali, salt, etc.
Halogen free, flame retardant.
High dielectric strength.
Excellent UV & weather resistant v properties,& hence suitable for indoor or outdoor use.
Reduces BusBar Clearance.
No Special Mould / Tool required.
Meets IP 68 (ingress Protection)
Technical Qualification Report : QR 1019
TECHNICAL SPECIFICATION
TEST DESCRIPTION
RECORDED VALUE
TEST METHOD
Dielectric Strength
12 KV / mm. (min.)
ASTM D149
Tensile strength
12 N/mm2 (min.)
ASTM D638
Ultimate Elongation
300% (min.)
ASTM D638
WaterAbsorption
0.5% (max.)
ASTM D570
Hardness
45 ± 10 shore D
ASTM D2240
Accelerated ageing
(120°C for 500 Hrs)
ASTM D2671
Tensile Strength
10 N/mm2 (Mpa) (min.)
ASTM D 638
Ultimate Elongation
250% (Min.)
ASTM D 638
Low temperature Flexibility (-40°C for 4 Hrs.)
No Cracking
ASTM D2671
Heat Shock (250°C for 30 Min.)
No Cracking or flowing
ESI 09-11
Shrink Temperature
125°C
IEC 216
Continuous Temp. Limit
-40°C to + 105°C
IEC 216
Dielectric Strength
22 KV/mm.(min.)
ASTM D149
Volume Resistivity
1 x 1014 Ohm.cm(min.)
ASTM D257
Dielectric constant
5 (Max.)
ASTM D150
Resistant to track & erosion
No tracking,erosion or
flame failure upto 3.25
.KV for 20 min.
ASTM D2303
CLEARANCES WITH INSULATION
Voltage
Medium wall Sheet (GMHS)
Heavy Wall Sheet (GHHS)
UN-Insulated Bus bars
Ph. To Ph.
Ph. to gr.
Ph. To Ph.
Ph. to gr.
36 KV
200
285
140
190
320
PRODUCT SELECTION
For 'T' Connection
BUSBAR WIDTH (mm)
CUT SIZE NEEDED (mm)
NO. OF INSTALLATIONS PER SHEET
For 'L' Connection
BUSBAR WIDTH (mm)
CUT SIZE NEEDED (mm)
NO. OF INSTALLATIONS PER SHEET
Note : The above table should be used as a guideline only. Please try with one or two joints before adopting final cut size. The busbars are assumed to be insulated to 25mm. from the joint. Cut size should extend minimum of 100mm. on each leg of the joint before shrinking and should overlap existing insulation by 65mm. after shrinking.
ORDERING INFORMATION
GALA CODE
LENGTH Ls (mm)
WIDTH Ws (mm)
THICKNESS (Tf)
SHEET (mm)
ADHESIVE (mm)
TOTAL THICKNESS (mm)
VOID FILLING MASTIC
300
60
PIECE
SEALANT MASTIC
300
20
PIECE
TOOL - 1
(BASIC CLAMP AND BRACKET KIT)
KIT
TOOL - 1
(EXTENDED CLAMP AND BRACKET KIT)
KIT
Note : If required, one piece of Red sealing mastic is applied on each leg of the joint and one or two pieces of Black sealing mastic is used to cover uneven shapes.