Heat Shrinkable Joints & Terminations
Cable Terminations

- GXO/E - 1112 - Series Heat Shrinkable Terminations Suitable for 3 Core XLPE/EPR Insulated Cables For 12kV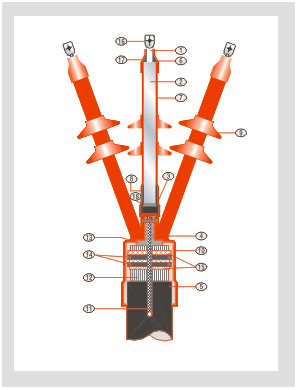 Descriptions : GLT - 1100 - Series Heat Shrinkable terminations kits designed for 1, 2, 3, 3?, 4, Core extruded Solid dielectric (XLPE / PVC) & paper insulated cable (Armoured / Un-Armoured) of 1.1kV & 3.3 kV rating.
BILL OF MATERIAL STD. PACKING KIT ( + )
Cable Components
Kit Components
Installation aids & Accessories (Part of std. kits)
Cable Components
3.
Semi Conducting Screen
Kit Components
6.
Terminal Sleeve
3 Nos.
7.
Non-Tracking Weather Resistant Tubing
3 Nos.
8.
Stress Control Tubing
3 Nos.
10.
Non-Tracking Cable Break Out
1 No.
11.
Tinned Copper Earth Braid
1 No.
14.
Worm Drive Clips
2 Nos.
15.
Mastic Sealing Tape
1 Roll.
17.
Lug Sealing Tape
3 Nos.
18.
Stress Control Mastic
3 Nos.
Installation aids & Accessories (Part of std. Kits)
1
Armour Earthing Arrangement (Tinned Copper Braid + Back Up Ring + Jubilee Clamp)
1 Set.
2
Metal shield Earthing arrangement (Small Copper Braid + Solder + Flux)
1 Set.
5
Nylon String for Cutting XLPE Insulation
1 No.
6
Aloxite Emery Tape
3 Nos.
8
Installation Instruction Manual
1 No.
Electrical Performance (12 kV Rated Accessories)
Tests
Requirement Test Value
GXO/E-112-Series
AC Withstand 1 Minute
35KV
Pass
DC Withstand 30 Minute
48 KV
Pass
Discharge Extintion Voltage (< 5Pc.)
12.7 KV
>12.7kV
Impulse Withstand (Crest kV)
75 kV
>75 kV
Continuous Current Rating
As Per Cable
As Per Cable
Accessories and optional items
Standard Tail Length is 600mm for outdoor and 450mm for indoor terminations. Special tail lengths available on request.
Solderless and special purpose earthing kits also available on request.
Polymeric Insulators and T Brackets for installation of terminations on single pole are available on request.
Temperature sensitive paint changes colour when heat shrinking process is complete.
Note

All kits are supplied with full kit contents for making a termination.
All Indoor Kits are supplied without rain sheds.
Ordering Informations
Cable size (sq. mm)
Outdoor Kit Code
Indoor Kit Code