Thin Wall Tubes
GSC: Flame Retardant Tube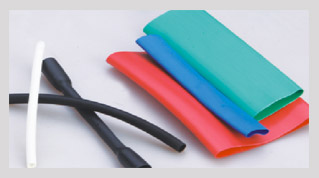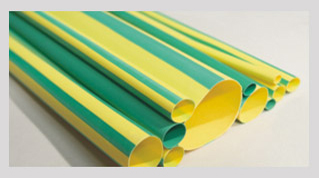 GSC & GSC/YG are Heat Shrink Thin Wall Tubes suitable for below applications :
GSC Series :
Light duty wire harnessing for electrical & electronic applications.
Provides electrical insulation and protection for in-line components.
Used as strain relief for electrical wire connection.
Bus-bar insulation for switchgear.
Color coding for wires, cables, terminals and components.
GSC/YG Series :
GSC/YG range of tubing is extremely flexible, flame-retardant, thin wall with yellow and green striped heat shrink polyolefin tubing especially for electrical equipment ground lead applications. The unique dual color striping of yellow and green provides an instant identification for ground wires.
GENERAL PROPERTIES OF PRODUCT :
Halogen free, Flame retardant and self-extinguishing
For Electrical Insulation up to 3.3 kV
Resistance to chemical, copper corrosion and fungus
Standard Colors: Black, White, Yellow, Red, Blue, Green, Yellow/Green and Clear.
Shrink ratio 2:1
UV stabilized
Meets RoHS Compliance
SPECIFICATIONS :
MIL-1-23053/5 Class 2 & 3, Ul224 (File no. E328538) 1250C VW1, CSA C22.2
SELECTION CHART
All dimensions are in mm
Part
Internal Diameter (mm)
Recovered Wall
Packing Configurations
Number / Size
Supplied
Recovered
Thickness (mm)
Spools Meters/Spool
Cut Lengths 1.2 meter/box
GSC 1.0/0.5
1.0 mm
0.5 mm
0.28 mm
200 m
600
GSC 1.5/0.75
1.5 mm
0.75 mm
0.32 mm
200 m
600
GSC 2.0/1.0
2.0 mm
1.0 mm
0.35 mm
200 m
600
GSC 4.0/2.0
2.5 mm
1.2 mm
0.44 mm
200 m
600
GSC 3.0/1.5
3.0 mm
1.5 mm
0.44 mm
200 m
500
GSC 3.0/1.5
3.0 mm
1.5 mm
0.44 mm
200 m
500
GSC 4.0/2.0
4.0 mm
2.0 mm
0.44 mm
100 m
250
GSC 5.0/2.5
5.0 mm
2.5 mm
0.56 mm
100 m
250
GSC 6.0/3.0
6.0 mm
3.0 mm
0.56 mm
100 m
200
GSC 7.0/3.5
7.0 mm
3.5 mm
0.56 mm
100 m
200
GSC 8.0/4.0
8.0 mm
4.0 mm
0.56 mm
100 m
175
GSC 10.0/5.0
10.0 mm
5.0 mm
0.56 mm
100 m
150
GSC 12.7/6.35
12.7 mm
6.35 mm
0.56 mm
100 m
120
GSC 14.0/7.0
14.0 mm
7.0 mm
0.69 mm
100 m
100
GSC 16.0/8.0
16.0 mm
8.0 mm
0.69 mm
100 m
100
GSC 18.0/9.0
18.0 mm
9.0 mm
0.69 mm
100 m
80
GSC 20.0/10.0
20.0 mm
10.0 mm
0.78 mm
100 m
65
GSC 25.0/12.5
25.0 mm
12.5 mm
0.78 mm
50 m
40
GSC 30.0/15.0
30.0 mm
15.0 mm
0.87 mm
50 m
30
GSC 40.0/20.0
40.0 mm
20.0 mm
0.97 mm
50 m
20
GSC 50.0/25.0
50.0 mm
25.0 mm
0.97 mm
25 m
15
GSC 70.0/35.0
70.0 mm
35.0 mm
1.10 mm
25 m
10
GSC 80.0/40.0
80.0 mm
40.0 mm
1.27 mm
25 m
10
GSC 100/50.0
100.0 mm
50.0 mm
1.17 mm
25 m
5
* Code for Y/G Striped Tubes - GSC/YG
TECHNICAL DATA
PROPERTIES
TEST METHOD
TYPICAL VALUE
Tensile Strength
ASTM-D-638
16 N/mm2 (Min.)
Elongation
ASTM-D-638
300%(Min.)
Water Absorption
ASTM-D-570
0.15% (Max.)
Low Temperature Flexibility
ASTM-D-2671
-550C
Specific Gravity
ASTM-D-792
1.4
Longitudinal Change
ASTM-D-638
-10% (Max.)
Flammability
UL224 VW1
Pass
Operating Temperature
IEC216
-55oC to + 125oC
Heat Shock
250oC for 4 hrs
No dripping, Cracking or flowing
Fungus Resistance
MIL-1-7444
Inert
Copper Corrosion
ASTM-D-2671-B
Good
Chemical Resistance
ASTM-D-2671
Good
Dielectric Strength
ASTM-D-2671
>20kv/mm
Dielectric Constant
ASTM-D-150
3.0 (Max.)
Volume Resistivity
ASTM-D-257
1014 Ohm cm(Min.)