Heat Shrinkable Moulded Shapes
Heat Shrink Low Voltage Cable Breakout
Insulcore-Low voltage provides a strong and permanent environmental seal to the crutch of 2, 3, 4, 5, 6 and 7 core PVC, XLPE Rubber and PILC cables upto 3.3 KV rated voltage.
The Breakouts are Manufactured form high quality cross linked polyolefin material that offer an exceptional insulation and long term service reliability.
The Breakouts are internally coated with hot melt adhesive. These breakouts when installed in position provide 100% water/moisture proofness to the system according to IP 68 (Ingress Protection).
Customised dimensions of Breakouts available on request.
Technical Qualification Report No.: QR 1012
Meets IP 68 (ingress Protection)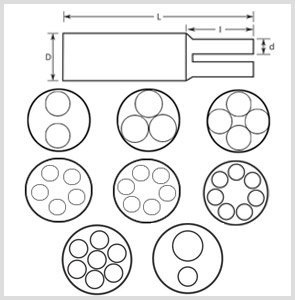 SELECTION CHART
All dimensions are in mm
Code
No. of Core
D
d
L
I
Tb
Tc
Ds
Df
ds
df
Ls
Lf
ls
lf
f
f
min
max
min.
max.
min.
max.
min
max
±10%
f±10%
LV2GBB-0308 S
2
22
8
10
3
70
85
14
20
2.2
2.0
LV2GBB-0308
2
28
8
12
3
70
85
15
20
2.2
2.0
LV2GBB-0410
2
32
10
14
4
70
85
15
20
2.2
2.0
LV2GBB-0410 A
2
42
11
14
4
80
107
25
42
2.2
2.0
LV2GBB-0410 L
2
34
10
14
4
77
107
27
42
3.0
3.0
LV2GBB-0615
2
45
15
18
5.5
90
110
25
43
3.0
3.5
LV2GBB-0720
2
60
20
24
7
95
120
25
34
3.0
2.5
LV2GBB-0720 A
2
70
22
30
8
95
120
25
34
3.0
2.5
LV2GBB-0930*
2
70
30
27
9
120
150
50
65
3.0
3.0
LV3GBB-0309
3
32
9
12
3
85
100
15
24
2.0
1.7
LV3GBB-0413
3
36
14
15
4
80
100
15
21
2.2
2.0
LV3GBB-0820
3
60
20
25
8
160
188
45
62
3.7
2.8
LV3GBB-0820 A
3
70
20
27
8
155
188
40
62
3.7
2.8
LV3GBB-1330
3
80
30
36
13
185
215
60
75
3.9
3.1
LV3GBB-1330 A
3
100
30
39
13
185
215
60
75
3.9
3.1
LV3GBB-2145
3
110
45
55
21
200
235
70
88
4.3
3.0
LV3GBB-1760
3
119
60
45
17
140
185
60
85
4.5
4.5
LV3GBB-1760 A
3
150
60
57
17
130
185
55
85
4.5
4.5
LV3GBB-2145 A
3
125
45
57
21
190
230
65
90
4.6
3.4
LV3GBB-2755
3
140
56
68
28
215
250
80
90
4.0
3.0
LV3GBB-2755 A
3
180
58
68
29
200
250
75
90
4.0
3.0
LV3GBB-3060
3
200
60
70
30
190
225
70
85
4.0
3.0
LV4GBB-0312S
4
30
12
10
3
80
100
15
25
2.4
1.7
LV4GBB-0312
4
40
12
12
3
80
100
15
25
2.4
1.7
LV4GBB-0415
4
41
16
14
4
80
100
15
23
2.4
1.7
LV4GBB-0415 A
4
50
17
17
4
75
95
12
23
2.4
1.7
LV4GBB-0522
4
50
22
18
5
95
115
30
37
2.5
2.2
LV4GBB-0821
4
27
26
20
7
140
170
32
48
3.5
2.5
LV4GBB-0825 N
4
70
25
25
8
160
190
35
51
3.5
2.3
LV4GBB-0925
4
70
30
25
9
155
190
35
48
3.7
2.6
LV4GBB-1130
4
80
31
32
10
150
190
28
47
3.7
2.6
LV4GBB-1334
4
90
42
35
13
170
210
35
52
3.7
2.6
LV4GBB-1334 A
4
110
44
35
13
170
208
40
51
3.7
2.6
LV4GBB-2454
4
125
44
40
14
170
208
30
51
3.7
2.6
LV4GBB-4080
4
180
80
70
40
200
260
75
95
3.7
2.8
LV4GBB-1334
5
32
8
10
3
95
115
22
28
2.1
1.7
LV5GBB-0311
5
32
11
10
3
55
75
15
20
2.3
2.0
LV5GBB-0415
5
50
16
15
4
85
110
21
33
3.2
2.6
LV5GBB-0415 A
5
57
17
15
4
80
110
21
33
3.2
2.6
LV5GBB-0832
5
80
32
26
8
155
190
55
65
3.3
2.8
LV5GBB-0832 A
5
100
33
32
8
145
190
50
65
3.3
2.8
LV6GBB-0412
6
44
12
13
4
55
82
20
30
2.2
2.0
LV5GBB-0832
5
80
32
26
8
155
190
55
65
3.3
2.8
LV5GBB-0832A
6
85
37
25
7
100
140
30
46
3.2
2.6
LV7GBB-0737
7
95
37
26
7
100
140
40
45
2.7
2.6
LV6GBB-0412
6
44
12
13
4
55
82
20
30
2.2
2.0
LV7GBB-1845
7
118
46
35
19
110
145
32
40
4.3
3.0
D,d : Internal Diameter ; s : as supplied ; f : after free recovery ; Tb,Tc : Thickness of body & core ** New Designs
Code
No. of Core
Ds
d1
d2
L
l1
l2
Tb
Tc
Tc1
Ds
Df
ds
df
ds
df
Ls
Lf
ls
lf
ls
lf
f
f
f
min
max
min
max
min
max
min
min
min
min
min
min
±10%
±10%
±10%
LV2GBB-61820
2
65
20
44
18
25
6
105
124
28
40
28
40
4.0
3.1
3.0
LV5GBB-7939*
5
90
39
30
9
24
7
133
185
30
50
30
50
3.0
2.8
2.8
TECHNICAL SPECIFICATION
PROPERTIES
VALUE
STANDARD
Tensile Strength
12 N/mm2 (MPA)(min.)
ASTM D638
Ultimate Elongation
350% (Min.)
ASTM D638
Density
1.05 ± 0.2 gm/cm3
ASTM D792
Hardness
45 ± 10 Shore D
ASTM D2240
Water Absorption
0.2 % (max.)
ASTM D570
Accelerated Ageing
(120oC for 500 Hrs)
ASTM D2671
Tensile Strength
11 N/mm2 (Mpa) (min.)
ASTM D 638
Ultimate Elongation
300%(Min.)
ASTM D638
Low temperature Flexibility (-40oC for 4 Hrs.)
No Cracking
ASTM D2671
Heat Shock (250oC for 30 Min.)
No Cracking or flowing
ESI 09-11
Shrink Temperature
125oC
IEC 216
Continuous Temperature limit
-40oC to + 110oC
IEC 216
Dielectric Strength
12 KV/mm. (Min.)
ASTM D149
Volume Resistivity
1 x 1014 Ohm.cm(min.)
ASTM D257
Dielectric Constant
5 (Max.)
ASTM D150