Switchgear Insulation Products
PVC Terminal Cap - TERMICAP
Termi Cap is made from high quality flexible PVC (Polyvinyl Chloride) Material.
Used for insulating and protecting wire end terminal.
Available in customs size, shape and colours.
Ideal for Insulating & colour coded identification of terminal crimped on to the power cable.
Standards :
Tested to ANSI C 37.20.2 Standards for medium voltage switchgear application to 36KV.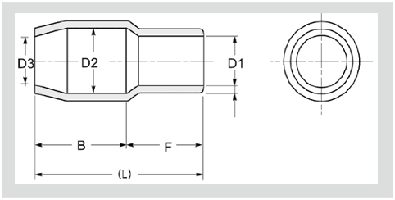 SELECTION CHART
TYPE
mm
D1
mm
D2
mm
D3
mm
L
mm
F

TCV 3251
30
37.5
30
78
38
TECHNICAL SPECIFICATION
PROPERTIES
VALUE
STANDARD
Dielectric Strength
12 KV / mm. (min.)
ASTM D149
Tensile Strength
12 N/mm2 (Mpa) (min.)
ASTM D638
Elongation
350% (min.)
ASTM D638
Density
1.23 gm/cm3
ASTM D792
Hardness
65 ± 5 shore A
ASTM D2240
Continuous Operating Temp.
-20°C to 115°C
IEC 216
Flammability
Pass
UL 94-V0