Tamper Proof End Seal
Tamper Proof End Seal is Heat Shrink End Cap, used to seal the ends of all types of Cables & to protect it from ingress of water/moisture. The caps are manufactured from high quality cross linked polyolefin material.
Tamper Proof Features / Benefits :
Permanent Foolproof Seal to the Cable end.
Can not be tampered, removed or re-used.
Can be considered as Factory fitted Cable end seal.
Customised Logo Printing with Special High Performance Non Removable Ink.
Warranty of Cable length can be considered as void in case Cable is found without Tamper Proof end seal.
Avoids unwanted customer claims for Shortage/Pilferage of Cable length.
Compatible with most commonly used 36 Kv Cable Joints i.e. XLPE, PVC, PILC or Rubber Sheathed Cable.
Hot Melt adhesive lining provides permanent seal on irregular cable sheaths.
Excellent resistance to weathering, moisture, contamination and adverse environmental conditions, according to IP 68 (Ingress Protection).
Valved End caps (V) available for pressurized application for Telecom cables.
Special Relief valved End Caps (RV) available for degassing application in High Voltage Power cables.
SELECTION CHART
All dimensions are in mm
CODE NO.
Ds (Min.)
Df (Max.)
Ls (Min.)
Tf(±10%)
CABLE RANGE
GEC 001 A
14
4
38
2.3
4-11
GEC 001 AL
14
4
58
2.3
4-11
GEC 101
20
7.5
55
2.3
8-16
GEC 101 L
20
8
75
2.3
8-16
GEC 101 A
25
8
55
2.3
8-20
GEC 101 AL
25
8
75
2.5
8-20
GEC 102
30
11
75
2.5
12-26
GEC 102 A
35
11
75
2.5
12-30
GEC 102 AL
35
11
105
2.5
12-30
GEC 201
40
15
90
3.3
16 - 35
GEC 201 L
40
15
120
3.3
16-35
GEC 201 A
45
15
90
3.3
16-40
GEC 201 AL
45
15
120
3.3
16-40
GEC 301
55
25
125
3.8
25 - 47
GEC 301 L
55
25
170
3.8
25 - 47
GEC 301 A
63
25
125
3.8
25 - 55
GEC 301 AL
63
25
170
3.8
25 - 55
GEC 401
75
35
140
4.0
35 - 68
GEC 401 L
75
35
180
4.0
35-68
GEC 401 A
85
36
140
4.0
36 - 78
GEC 401 AL
85
35
140
4.0
36-78
GEC 501
100
45
160
4.0
45 - 90
GEC 501 L
100
45
200
4.0
45-90
GEC 501 A
120
45
160
4.0
45 - 110
GEC 501 AL
120
45
200
4.0
45-110
GEC 601
130
60
155
4.6
64 - 120
GEC 601 L*
130
65
300
4.6
67 - 120
GEC 701
154
60
165
4.6
70 - 145
GEC 701 L*
160
65
300
4.5
70 - 145
GEC 801 S*
190
125
220
4.0
140 - 165
GEC 801*
230
125
220
4.0
140 - 200
GEC 901*
310
120
220
7.0
140 - 280
GEC 1001*
400
204
220
6.0
230 - 360
GEC 1101*
500
200
220
6.0
230 - 460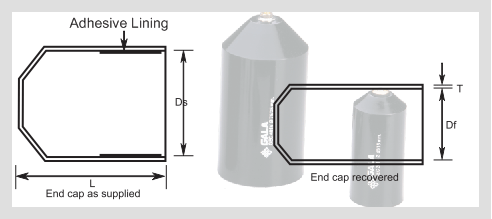 TECHNICAL SPECIFICATION
PROPERTIES
VALUE
STANDARD
Tensile Strength
12 N/mm2 (MPA)(min.)
ASTM D638
Ultimate Elongation
350% (Min.)
ASTM D638
Density
1.05 ± 0.2 gm/cm3
ASTM D792
Hardness
45 ? 10 Shore D
ASTM D2240
Water Absorption
0.2 % (max.)
ASTM D570
Accelerated Ageing
(120oC for 500 Hrs)
ASTM D2671
Tensile Strength
11 N/mm2 (Mpa) (min.)
ASTM D 638
Ultimate Elongation
300%(Min.)
ASTM D638
Low temperature Flexibility (-40oC for 4 Hrs.)
No Cracking
ASTM D2671
Heat Shock (250oC for 30 Min.)
No Cracking or flowing
ESI 09-11
Shrink Temperature
125oC
IEC 216
Continuous Temperature limit
-40oC to + 110oC
IEC 216
Dielectric Strength
12 KV/mm. (Min.)
ASTM D149
Volume Resistivity
1 x 1014 Ohm.cm(min.)
ASTM D257
Dielectric Constant
5 (Max.)
ASTM D150
Technical Qualification Report : QR 1011