Thin Wall Tubes
GDW : Dual Wall Tubing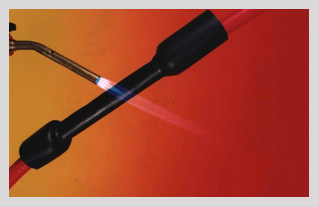 GDW is dual wall tubing manufactured by co-extrusion of polyolefin and hot melt adhesive. Designed to provide both insulation and sealing for protected articles.
APPLICATIONS :
Provides permanent waterproof barrier & environmental seale for electrical components such as wire splices & hardness in automobile & communication industry.
Used as an alternative to moulded parts and cable breakouts
High shrink ratio enables insulation of cables with connectors of various sizes-Suitable for use in telecommunication, industrial equipment, automotive and avionics.
GENERAL PROPERTIES OF PRODUCT :
Shrink ratio 3:1
Operating temperature ranges from -550C to +850C
Flame retardant and self-extinguishing
Chemical, copper corrosion and fungus resistance
Dielectric strength of 15KV/mm.
Meets RoHS Compliance
Meets IP 68 (Ingress Protection)
SPECIFICATIONS :
IEC, ASTM, AND MIL-SPEC
SELECTION CHART
All dimensions are in mm
Part
Internal Diameter (mm)
Recovered Thickness
Recovered Adhesive
Standard
Number / Size
Supplied
Recovered
(Incl. Adhesive)
Thickness
Package
GDW 3/1
3.0 mm
1.0 mm
1.0 mm
0.4 mm.
200m/spool
GDW 4.8/1.6
4.8 mm
1.6 mm
1.0 mm
0.5 mm.
100m/spool
GDW 6/2
6.0 mm
2.0 mm
1.1 mm
0.5 mm.
100m/spool
GDW 9/3
9.0 mm
3.0 mm
1.3 mm
0.6 mm.
50m/spool
GDW 12/4
12.0 mm
4.0 mm
1.5 mm
0.7 mm.
30m/spool
GDW 18/6
18.0 mm
6.0 mm
2.0 mm
0.8 mm.
30m/spool
GDW 24/8
24.0 mm
8.0 mm
2.3 mm
0.9 mm.
30m/spool
GDW 39/13
39.0 mm
13.0 mm
2.5 mm
1.0 mm.
20m/spool
GDW 50/17
50.0 mm
17.0 mm
2.5 mm
1.2 mm.
15m/spool
GDW 75/25
75.0 mm
25.0 mm
2.5 mm
1.2 mm.
15m/spool
GDW 100/34
100.0 mm
34.0 mm
2.5 mm
1.2 mm.
15m/spool
TECHNICAL DATA
PROPERTIES
TEST METHOD
TYPICAL VALUE
Tensile Strength
ASTM-D-638
12 N/mm2 (Min.)
Elongation
ASTM-D-638
300
Water Absorption
ASTM-D-570
0.15 (Max.)
Low Temperature Flexibility
ASTM-D-2671
-55 C
Specific Gravity
ASTM-D-792
1.4
Longitudinal Change
ASTM-D-638
-10% (Max.)
Flammability
ASTM-D-2671
Pass
Operating Temperature
IEC216
-55oC to + 125oC (Outer Wall) No dripping, cracking or flowing
Heat Shock
250oC for 4 hrs
(Outer Wall)
Fungus Resistance
MIL-1-7444
Inert
Copper Corrosion
ASTM-D-2671-B
Good
Chemical Resistance
ASTM-D-2671
Good
Dielectric Strength
ASTM-D-2671
>15kV / mm
Dielectric Constant
ASTM-D-150
3.0 (Max.)
Volume Resistivity
ASTM-D-257
10 Ohm's / cm (Min)