Heat Shrinkable Tubes/Heat Shrink Sleeves
Non Tracking tube - INSULTUBE non tracking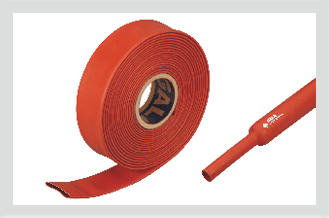 Insultu - Non Tracking tubesbe are used in Medium Voltage becable joints and terminations upto 36 KVbe. The tubes are produced from high quality non tracking cross linked polyolefin material that offers exceptional insulation and long term service reliability.
General Properties
Excellent anti-tracking performance and erosion resistance.
Halogen free, flame retardant.
Good weather / UV resistance.
High resistance to chemical, solvent, corrosion and fungus.
Customised dimension, thickness, length & colour available on request.

Technical Qualification Report : QR 1021
SELECTION CHART
All dimensions are in mm
Code
D Min (mm)
d Max (mm)
T?10% (mm)
Spool length (mtr)
Selection Chart (Heavy Wall)
Code
D Min (mm)
d Max (mm)
T?10% (mm)
Spool length (mtr)
GAT(HW) 35/12
35
12
5
1.5
GAT(HW) 55/18
55
18
5
1.5
GAT(HW) 65/25
65
25
5
1.5
GAT(HW) 85/30
85
30
5
1.5
GAT(HW) 100/38
100
38
5
1.5
GAT(HW) 120/45
120
45
5
1.5
GAT(HW) 140/50
140
50
5
1.5
TECHNICAL SPECIFICATION
Properties
Value
Standard
Tensile Strength
10 N/mm2 (MPA)(min.)
ASTM D638
Ultimate Elongation
350% (Min.)
ASTM D638
Longitudinal Change
-10% (Max.)
ASTM D2671
Hardness
45 ? 10 Shore D
ASTM D2240
Water Absorption
0.5 % (max.)
ASTM D570
Accelerated Ageing
(120oC for 500 Hrs)
ASTM D2671
Tensile Strength
8 N/mm2 (Mpa) (min.)
ASTM D 638
Ultimate Elongation
250%(Min.)
ASTM D638
Low temperature Flexibility (-40oC for 4 Hrs.)
No Cracking
ASTM D2671
Heat Shock (250oC for 30 Min.)
No Cracking or flowing
ESI 09-11
Shrink Temperature
125oC
IEC 216
Continuous Temperature limit
-40oC to + 110oC
IEC 216
Dielectric Strength
15 KV/mm. (Min.)
ASTM D149
Volume Resistivity
1 x 1014 Ohm.cm(min.)
ASTM D257
Dielectric Constant
5 (Max.)
ASTM D150
Resistant to track & erosion
No Tracking, erosion or flame failure upto 3.25 KV for 20 min.
ASTM D2303