Pipeline / Corrosion Protection Products
Heat Shrinkable Coupler (for pipe connection)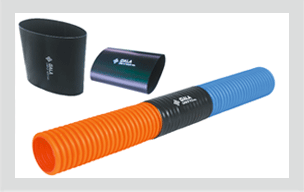 Heat Shrink Coupler is a Tubing suitable to joint Corrugated HDPE pipes, used in Water management, Irrigation, Sanitary, Sewer and Drainage, Construction, Mining industries, Ducting and for underground Cable protection.
These tubes are manufactured from high quality Cross-linked Polyolefin material. Hot melt adhesive lining provides 100% sealing according to IP 68 (Ingress Protection).
It is feasible and the most economic jointing solution compared to Conventional Butt welding or using Snap Fit Coupler or Split coupler.
Features & benefits :
Easy & Quick Installation. No special skill required.
High resistance to Impact & Abrasion.
Suitable for Wet and Dry underground conditions.
Joint in-line with pipe.
Superior elastomeric characteristics allows better conformance over irregular contours.
High Shrink ratio (3:1) helps to reduce the stock requirements with few sizes covering greater pipe application range.
Resistant to Heat, UV rays, Vibration, Sand-blasting & Harsh Industrial conditions.
Customized dimensions, length & colour available.

Technical Qualification Report : QR 1021
SELECTION CHART
All dimensions are in mm
Code
D Min (mm)
d Max (mm)
T±10% (mm)
Spool length (mtr)
GMW 105/30
105
30
3.0
1200
GMW 115/34
115
34
3.2
1200
GMW 130/36
130
36
3.2
1200
GMW 140/42
140
42
3.2
1200
GMW 160/50
160
50
3.3
1200
GMW 180/55
180
55
3.3
1200
GMW 200/60
200
60
3.5
1200
GMW 250/70
250
70
3.5
1200
GMW 320/90
320
90
3.5
500
GMW 375/110
375
110
3.5
500
GMW 425/125
425
125
3.5
500
GMW 550/157
550
157
3.5
500
GMW 680/200
680
200
3.5
500
GMW 760/215
760
215
3.5
500
GMW 863/250
863
250
3.5
500
TECHNICAL SPECIFICATION
Properties
Value
Standard
Tensile Strength
20 Mpa (N/mm2) (min.)
ASTM D638
Ultimate Elongation
350% (Min.)
ASTM D638
Longitudinal Change
-10% (Max.)
ASTM D2671
Hardness
45 ± 10 Shore D
ASTM D2240
Water Absorption
0.5 % (max.)
ASTM D570
Accelerated Ageing
(120°C for 500 Hrs)
ASTM D2671
Tensile Strength
8 N/mm2 (Mpa) (min.)
ASTM D 638
Ultimate Elongation
250%(Min.)
ASTM D638
Low temperature Flexibility (-40oC for 4 Hrs.)
No Cracking
ASTM D2671
Heat Shock (250oC for 30 Min.)
No Cracking or flowing
ESI 09-11
Shrink Temperature
125oC
IEC 216
Continuous Temperature limit
-40oC to + 110oC
IEC 216
Dielectric Strength
15 KV/mm. (Min.)
ASTM D149
Volume Resistivity
1 x 1014 Ohm.cm(min.)
ASTM D257
Dielectric Constant
5 (Max.)
ASTM D150