PVC Caps
As the major producer of PVC caps in the world, Galathermo has the widest line of caps, plugs, flange covers, and products available. Of course, this broad line of products evolved due to the individual compensation that plugs have over nearly all hard plastic closures.
Vin cap is made from specially formulated Poly Vinyl Chloride material.
Push-on type application.
Ensures perfect protection to cable ends from weathering, moisture and contamination.
Quick and easy installation without any tools. No skill is required.
Extremely economical and cost effective compared to Heat Shrink End Caps.
Caps of varying lengths & thickness can be made with no tooling charge.
Will not Crack or Split like Low Density Polyethylene.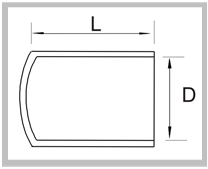 SELECTION CHART
All dimensions are in mm
22
40
51
50
100
60
762
63
24
40
52
50
105
60
813
63
25
40
53
50
110
60
914
63
TECHNICAL SPECIFICATION
Test Description
Recorded Value
TEST METHOD
Dielectric Strength
12KV/mm.(min.)
ASTM D149
Tensile Strength
12N/mm2 (min.)
ASTM D638
Elongation
350% (min.)
ASTM D638
Density
1.23gm/cm3
ASTM D792
Hardness
65 ± 5 shore A
ASTM D2240
Continuous Operating
-20°C to 115°C
IEC 216
Flammability
Pass
UL 94-VO