Polymeric Standoff Insulators/ Support Insulators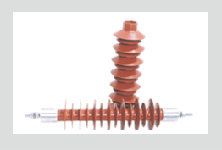 Polymeric Insulator (Support Insulator) consists of a fiberglass core covered with weather resistance polymeric shedded sleeve and aluminium end fittings. These insulators offer significant advantage like better performance in highly polluted environment, flame / arc resistance, resistance to chemicals and UV rays and are Vandal proof.
Specally designed polymeric material used in these insulators have a self cleaning property.
Surface hydrophobicity is maintained over a long period.
Unbreakable, compact and light weight compared to porcelain insulators.
Metal end fitting as per customers requirement.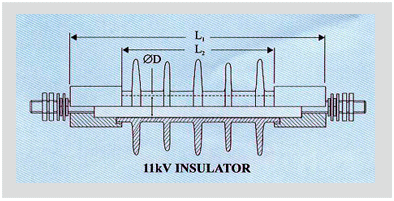 SELECTION CHART
11 KV
240 ± 5mm
140 ± 3mm
31 ± 2mm
25 KV/33KV
430 ± 15mm
330 ± 10mm
31 ± 2mm
TECHNICAL SPECIFICATION
PROPERTIES
VALUE
STANDARD
Creepage Distance
310 mm
1050 mm
Measurement
Wet one minute power frequency withstand voltage
38 KV
75 KV
ASTM D-149/IEC 60
Lighting impulse withstand voltage
95 Kvp
170 Kvp
ASTM D-3426/IEC 60