Long Life
Suitable for polluted environments, salty atmospheres etc.
Unique self cleaning property
Resistance to breakage and vandalism, practically unbreakable
Superior anti-tracking properties
High mechanical strength
Light weight
Ease of installation
Choice of end fittings
Long term surface hydrophobicity
Compliance with IEC 61109, CEA LWIWG-01(91), ANSI C29.11-1989
Shape for Optimum Performance of Insulators
The exterior appearance of a high-voltage insulator depends on a combination of various factors determining its specific shape. Designing an Insulator for optimum performance requires an exact knowledge and description of all application needs. Polytek Insulator design considers following design criteria to ensure excellent field performance and ZERO DEFECT end product.
Mechanical requirements
The mechanical forces such as bending moments, compression, tension, torsion, etc. acting on the insulator and its connecting system must be accurately specified.
Electrical Characteristics
Data such as the lightning impulse flashover voltage, switching impulse flashover voltage and power-frequency flashover voltage define the necessary dielectric strength and insulator length.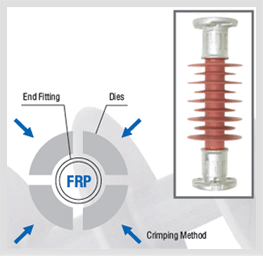 Creepage distance requirements
Creepage distances are defined in accordance with IEC 60815 and with customers' requirements.
Applicable standards and testing codes
International standards, codes and test specifications are observed in the manufacture of the product. The design comply with IEC 61109 with up dated ammendments.
Customer specifications and installation requirements
Special requirements (connecting dimensions, diameter, etc.) are considered during design.
Environmental conditions
Environmental conditions at the installation site determine the design and number of insulator sheds