Switchgear Insulation Products
Terminal Insulation Cover - TERMICOVER
Terminal Insulation Cover is made from high quality flexible PVC (Polyvinyl Chloride) material.
Protecting Insulating cover for straight or flat-type terminals.
Recesses on the tab shoulders ensure that the tabs stay firmly in place.
The sleeves prevents entry of dust from the cable end.
Available in customs size, shape & colours.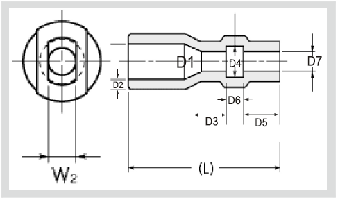 SELECTION CHART
TYPE
D1
mm
D2
mm
D3
mm
D4
mm
D
mm
D6
mm
D7
mm
L

GTIC-1
6
2.8
4
3
8
3.5
2.5
25
GTIC-2
8
3.9
5
5
11
5
3.9
30
GTIC-3
9
4
5.2
6.2
11
3.8
5.5
32
TECHNICAL SPECIFICATION
PROPERTIES
VALUE
STANDARD
Dielectric Strength
12 KV / mm. (min.)
ASTM D149
Tensile Strength
12 N/mm2 (Mpa) (min.)
ASTM D638
Elongation
350% (min.)
ASTM D638
Density
1.23 gm/cm3
ASTM D792
Hardness
65 ± 5 shore A
ASTM D2240
Continuous Operating Temp.
-20°C to 115°C
IEC 216
Flammability
Self Extinguishing
ASTM D876