Switchgear Insulation Products
Bushing Boot - BUSHINGBOOT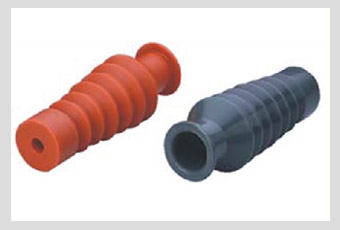 Bushing Boots are non-tracking elastomeric insulating boots which are used in conjunction with terminations. They fit over the bushings of switchgear, insulating the area between the cable connector in either right angled or straight bushing connections. They are designed to enhance the phase-to-phase and phase-to-earth insulation. The boots can be used up to 25 KV application & protect against flashover or surges induced in switchgear & transformer boxes.
TECHNICAL SPECIFICATION
PROPERTIES
VALUE
STANDARD
Tensile Strength
12 N/mm2
ASTM D638
Ultimate Elongation
300% (Min.)
ASTM D638
Longitudinal Change
-10% (Max.)
ASTM D2671
Hardness
45 ± 10 Shore D
ASTM D2240
Water Absorption
0.5 % (max.)
ASTM D570
Accelerated Ageing
(120°C for 500 Hrs)
ASTM D2671
Tensile Strength
11 N/mm2 (Mpa) (min.)
ASTM D 638
Ultimate Elongation
300 % (Min.)
ASTM D 638
Low temperature Flexibility (-40oC for 4 Hrs.)
No Cracking
ASTM D2671
Heat Shock (250oC for 30 Min.)
No Cracking or flowing
ESI 09-11
Shrink Temperature
>125°C
IEC 216
Continuous Temperature limit
-40°C to + 110°C
IEC 216
Dielectric Strength
12 KV/mm. (Min.)
ASTM D149
Volume Resistivity
1 x 1014 Ohm.cm(max..)
ASTM D257
Dielectric Constant
5 (Max.)
ASTM D150
Fungus Resistance
less than 1
ASTM G-21
Salt Spray test
No pitting / no corrosion
ASTM B-17
immersion in following liquids
no visual defects
Toluence, Acetone for 24 hours
SYSTEM SPECIFICATION
Test Item
Parameter
Requirements
Result
AC Withstand
5 min at 55 KV
No Flashover
No Breakdown
Pass
Impulse voltage withstand
10 + & 10- impulses at 125 KV
7No Flashover
No Breakdown
Pass
Bushing Boot - BUSHINGBOOT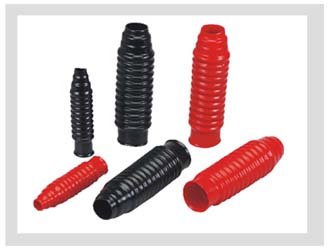 Bellows are used in low voltage switchgear & transformer industry for cable ducting. They are made from high quality flexible PVC (Polyvinyl Chloride) material. The bellows are available in different shapes and sizes to suit for different applications with matching mounting options.
STANDARDS :
Tested to ANSI C 37.20.2 Standards for medium voltage switchgear application upto 36KV.
Provides good Electrical & Thermal Insulation.
High insulation properties & good flame retardant properties.
Increases the service life of stand-by & emergency equipment.
Reduces maintenance cost with less distribution interruptions.
Safe and mandatory in developed countries.
Available in COLOUR OF YOUR CHOICE
TECHNICAL SPECIFICATION
TEST DESCRIPTION
RECORDED VALUE
TEST METHOD
Dielectric Strength
12 KV / mm. (min.)
ASTM D149
Tensile strength
12 N/mm2 (min.)
ASTM D638
Elongation
350% (min.)
ASTM D638
Density
1.23 gm/cm3
ASTM D792
Hardness
65 ± 5 shore A
ASTM D2240
Continuous Operating Temp.
-20&degC to 115°C
IEC 216
Flammability
Pass
UL 94-V0