Outdoor Termination - Heat Shrinkable Joints
Cable Terminations

- GPO/E - 1524 - Series Heat Shrinkable Outdoor Termination Suitable for 3 Core Paper Insulated Lead Covered MIND Cable For 24 kV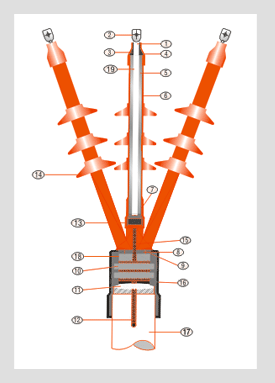 Descriptions : GPO / E - 1524 - Series Class I termination kits are Heat Shrinkable Outdoor Termination kits designed for 3 Core Screened, Paper Insulated Lead Sheathed / Armour Cable UPTO 24kV .
BILL OF MATERIAL STD. PACKING KIT ( + )
Cable Components
Kit Components
Installation aids & Accessories (Part of std. kits)
Cable Components
Kit Components
3.
Lug Sealing Mastic
3 Strips
4.
Heat Shrinkable Adhesive Lined Terminal Sleeve
3 Nos.
5.
Heat Shrinkable Oil barrier Sleeve
3 Nos.
6.
Heat Shrinkable Non Tracking Weather Resistant Tubing
3 Nos.
7.
Stress Control Tubing
3 Nos.
8.
Glass Cushion Tape
1 Roll.
9.
Heat Shrinkable Belting Oil Barrier Sleeve
1 No.
10.
Worm Drive Clips (Optional)
2 Nos.
11.
Earthing Plumb (Connection of Lead Sheath to Armour)
1 Set.
12.
Tinned Copper Brand (Main Earthing)
1 No.
13.
Stress Control Mastic
3 Strips
15.
Insulaton Shield Continuting (Small Copper Braid+Copper Wire)
1 Set.
16.
Heat Shrinkable Conducting Breakout
1 No.
Installation aids & Accessories (Part of std. Kits)
1
Mastic Sealing Tape
1 Roll.
2
Cleaning Solvent
1 Bottle.
5
Installation Instruction Manual
1 No.
Electrical Performance (12 kV Rated Accessories)
Tests
Requirement
Typical Value
A.C. Dry Withstand Voltage
50 kV / 1 Minute
Pass
D.C. Voltage Withstand Test
96 kV / 15 Minutes
Pass
Lightening Impulse Withstand Voltage
125 kV
> 125 kV
Accessories and optional items
Standard Tail Length is 800mm for and 550mm for indoor terminations. Special tail lengths available on request.
Solderless and special purpose earthing kits also available on request.
Polymeric Insulators and T Brackets for installation of terminations on single pole are available on request.
Note

All kits are supplied with full kit contents for making a termination.
All Indoor terminations shall have 1 No. Rain shed on each core.
Ordering Informations
Cable size (sq. mm)
Outdoor Kit Code
Indoor Kit Code