Polecap / Dock Pile Cap is used to cover the top of the Power Pole & Dock Pile. It prevents birds from perching on top of the pole while protecting the top of the pole from rain and decay, thereby increasing Pole life. The caps are manufactured from Specially formulated Polyvinyl Chloride (PVC) material to provide excellent mechanical and electrical insulation.
The Best & Cost-effective Solution for long term maintenance of Poles / Dock Piles:
Features:
Resistance to UV rays & Ozone.
Easy installation on concrete, wood, steel or composite poles in minutes.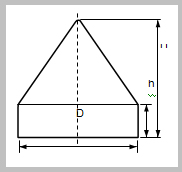 Benefits :
Provides excellent Impact resistance, i.e. when a Pole end
covered with Pole cap hits on a sharp edge, it would not crack.
Prevents birds from perching (woodpecker damage) or nesting on top of round tubular & solid poles.
Protects the top of the pole from damage caused by freeze and thaw conditions.
Eliminates outages from flash-over & electrocutions..
No maintenance after installation
Can also be used on marine pylons to protect piling from internal.
Technical Specification
All dimensions are in mm
PROPERTIES
VALUE
STANDARD
Dielectric Strength
12 KV / mm. (min.)
ASTM D149
Tensile Strength
12 N / mm² (min.)
ASTM D638
Elongation
350% (min.)
ASTM D638
Density
1.23 gm / cm³
ASTM D792
Hardness
65 ± 5 shore A
ASTM D2240
Continuous Operating Temp
-40°C to 115°C
IEC 216
Flammability
Pass
UL 94-V0
ROUND CAPS
SELECTION CHART
Code No.
D (Min.)
h (Min.)
H (Min.)
T (±10%)
SQUARE CAPS
Selection Chart
Code No.
D (Min.)
h (Min.)
H (Min.)
T (±10%)